THE NEXT UBER? WHERE TO INVEST YOUR MONEY AND ESTABLISH A BILLION DOLLAR STARTUP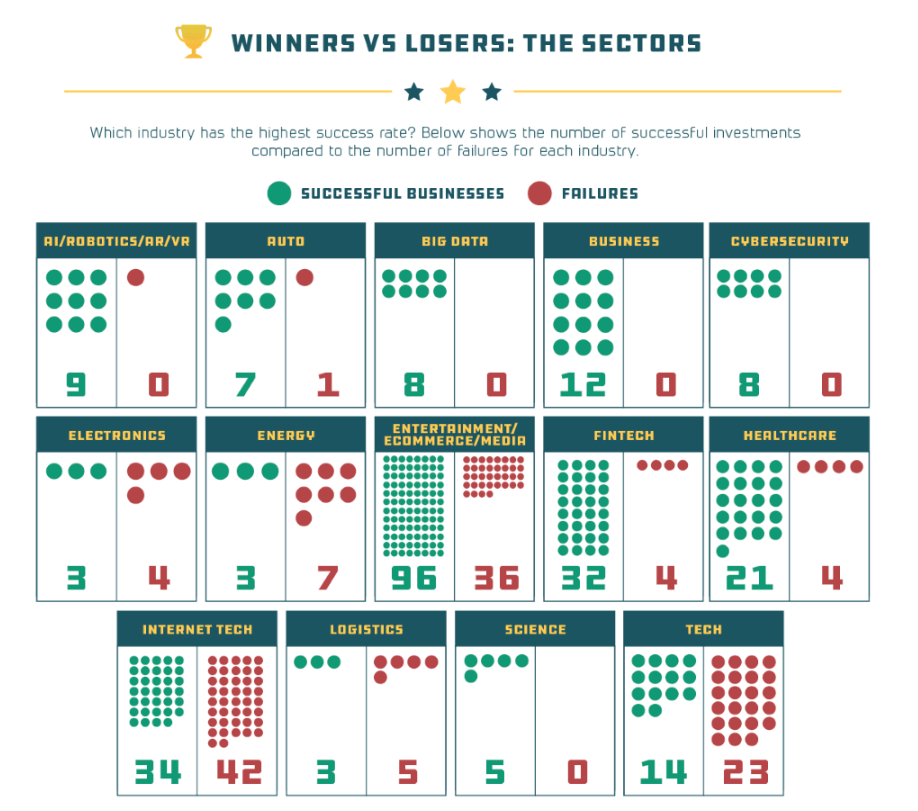 A recent research by SmallBusinessPrices.co.uk has shown insight into the growing startup industry, focusing on unicorn businesses which are startups valued at $1 billion.
With over 255 startup businesses listed as unicorns, we look at some of the most and least likely sectors to make you a billionaire:
FinTech – With the average business value of $1.96 billion, FinTech is one of the sectors where you're most likely to see ROI. Data shows that of the 36 FinTech startup ventures, 32 remain successful with only 4 failures.
Entertainment/E-commerce/Media – The largest sector overall, the average unicorn in these industries boast a value of around $4.4 billion. Despite having 132 newly created businesses, the sector saw 96 of these businesses become successful and 36 of them fail.
Business – The average business value in this sector is $3.52 billion and can reach up to $20 billion. From 12 business startups founded, all of them are successfully remaining on the startup market, concluding as one of the best sectors to create a startup.
Healthcare – This sector is recognised as one of the most successful in the study. The average unicorn is valued on $2.11 billion. From 25 startups, 21 remained successfully in the market and just only 4 were registered as a failure.
Which Sectors are The Most Profitable?
Science – With companies attempting to solve problems of the world, science startups tend to receive large investments to help bolster their success. SpaceX, an aerospace transportation manufacturer takes the lead with a valuation of $21.5 billion. The average valuation in the industry is around $5.4 billion, making it the highest average compared to all sectors.
AI/Robots/AR/VR – With growing interest around AI/Robots/AR/VR, this sector sees the second highest average valuation of $4.49 billion. The most profitable business is Toutiao (Bytedance), a Chinese information recommendation engine which is worth $20 billion.
Entertainment/E-commerce/Media – With Uber making profits of up to $68 billion, it is the only sector to have a maximum valuation of over $25 billion. There's an opportunity to make a serious amount of money with the average valuation for this sector being $4.4 billion. Airbnb is also one of the most notable companies in the sector with a value of $29.3 billion.
Ian Wright from SmallBusinessPrices.co.uk said:"Across all sectors, there is vast competition in the startup industry with companies and investors having to take big risks to be successful. Combining historical data with the 2018 startup landscape gives a good insight into the world of Unicorn business."